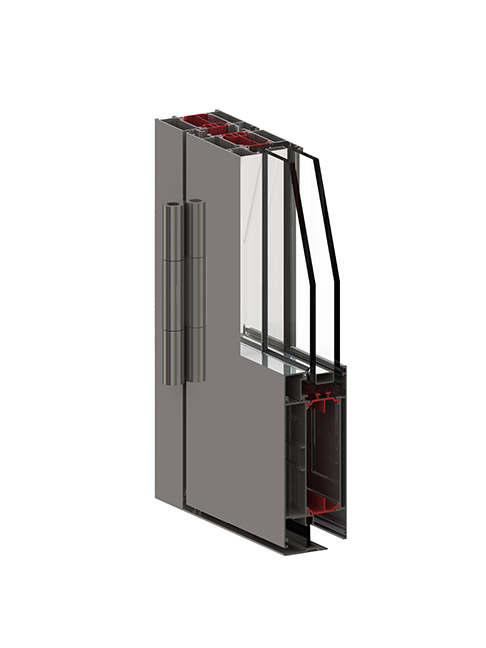 Versatility and lightness
The DOGMA family of casements now includes a solution for doors. This is DOGMA DOOR, a range of interior-exterior coplanar profiles with a thickness of 65mm and insulating bars of 30mm to ensure high standards of thermal insulation (Uf up to 1.5 w/m2K). The cylindrical hinges designed for the system make it both functional and elegant. The painstaking design of the seals inside the profiles ensures good weatherproofing and a premium finish. The DOGMA DOOR range of profiles can be used for all of the main types of opening.
The importance of being DOGMA.

VALUE OBTAINED ON:
*DOUBLE DOOR 2400X2400 mm
**DOOR TO 1 DOOR 960X2240 mm

Thermal break door system
Air/water sealing system
Stop gasket
Under glass insert/li>
Closing accessories
Filiform hinges
Thermal insulation main type
Suitable for
elegible for ce marking
double beat 
epdm
insulating
system-specific
dedicated, reversible, 150 kg load
30 mm bars 
sac 1
Uf LAT.
1.5 W/m²K
Ug
1.0 W/m²K
Uw
1.3 W/m²K
VALUES OBTAINED ON:
*1 DOOR 1100x2200 mm
Uf LAT.
1.5 W/m²K
Ug
1.0 W/m²K
Uw
1.3 W/m²K
Uf CEN.
1.5 W/m²K
UW VALUES OBTAINED ON: 2-WINGS DOOR 1800x2400 mm
Uf LAT.
1.5 W/m²K
Ug
0.6 W/m²K
Uw
1.0 W/m²K
UW VALUE OBTAINED ON: 1-WING DOOR 1100x2200 mm
#colspan#
Uf LAT.
1.5 W/m²K
Ug
0.6 W/m²K
Uw
1.0 W/m²K
Uf CEN.
1.5 W/m²K
UW VALUES OBTAINED ON: 2-WINGS DOOR 1800x2400 mm
#colspan#

Frame cross-section
Sash cross-sections
Overall lateral dimensions
Overall central dimensions
65 mm
65 mm
153 mm
200 mm